Precision Control
Air-conditioning Cooling Unit
Precision air-conditioning unit allows users to control the temperature, humidity and air flow in a close control environment. Besides environmental and device cooling, precision cooling also assists in removing internal heat generated from computers and equipment. A precision cooling system vents out all the heat to maintain a balanced, sensible heat ratio, such as dynamically adjusted cooling in relation to the heat in or temperature of the device/environment.
Though optimised for use in data centers and telephone exchanges, they are equally valid in special applications such as measurement laboratories, museums, control rooms for electricity power stations and widely varied industrial sectors: optics, electronics, electromedical equipment, electronic equipment production etc.
Chilled water type;
Direct Expansion type (Air-cooled or Water-cooled)
Downflow or Upflow (either design)
An adaptive row-based cooling system placed near to the heat source (side-by-side with server racks) and ideal for rack level cooling solution for data centre.
N+1 redundant configuration of EC fans, ensure the airflow in case of any fan fault; Saving 20~30% energy compared to traditional AC motor.
Fan RPM is adjusted automatically based on cooling requirements and airflow pressure, to provide airflow as required.
Compressor speed is infinitely variable according to the heat load; Energy saving under partial-load mode, improving energy efficiency and significantly reduce the start/stop frequency of the compressor to improve the system reliability.
Equipped with smoothly throttled quick response electronic expansion valve to combine with EC compressor for precise control & energy saving.
Wide range of operations, which can help reduce the superheat degree and improve EER.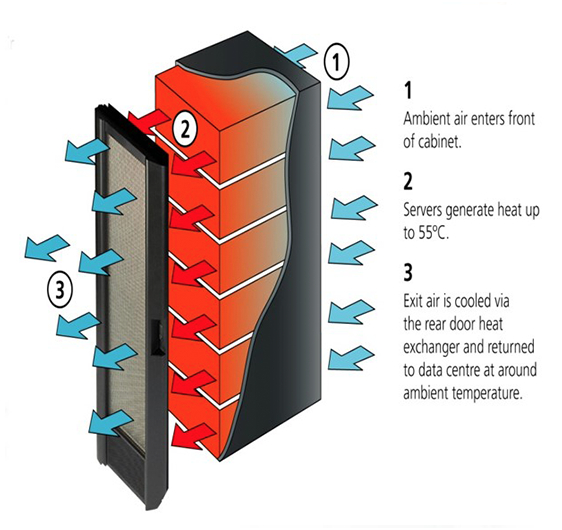 IT Rack Rear Door Liquid Cooling Unit
A passive device uses circulated chilled water to provide cooling for individual server cabinets. It is designed to increase equipment density in data centers, and helps reduce the need for inefficient computer room air conditioning units, saving you money and reducing your server footprint. It is designed without fans, no moving parts, no noise, and to directly remove heat efficiently and independently to minimise the centralised air-conditioning requirement in a data centre and also to avoid the downtime caused by the A/C system failures.